Far Above a Midnight Sky – possibly the most beautiful album you will ever hear – is available worldwide in both CD and download formats.
2023 Offer on CDs and downloads 
Please visit our Purchase Page for details.                                                                                     Purchase Page >
The CD, along with a 16-page full colour album booklet, is presented in a standard jewel case, housed in a gloss laminated outer sleeve – as illustrated in the photo montage below.
The whole album, or individual tracks, may also be downloaded in both MP3 and Wav file formats.
The Album Itself
Far Above a Midnight Sky is the sumptuous new album of romantic classical music – orchestral, instrumental, vocal and choral – from Vista Musicale, accompanied by the John Wilson Orchestra.
Featuring some of the finest musicians on the international stage, including Craig Ogden (guitar), Adrian Brendel (cello) and Harry Sever (treble), together with the immensely popular  John Wilson Orchestra, the album comprises eighteen original tracks to soothe, move and inspire.
In the words of John Rutter, the album is "predominantly gentle and wistful, tinged with nostalgia. The performances are lovely…with the John Wilson Orchestra on hand to underscore the soloists or swell to an emotional climax when needed".
"…the type of music which beguiles and haunts us with sweet melody rather than arouses us with the shock of the new or bludgeons us with the abrasive"  John Rutter
Excerpts from every track on the album are available for you to enjoy.
We've also made a video – capturing some particularly beautiful local settings – to accompany Track 2 'Unspoken'.
Far Above a Midnight Sky is now available worldwide in both CD and download formats – the CD featuring specially commissioned artwork from upcoming artist Jack Waddington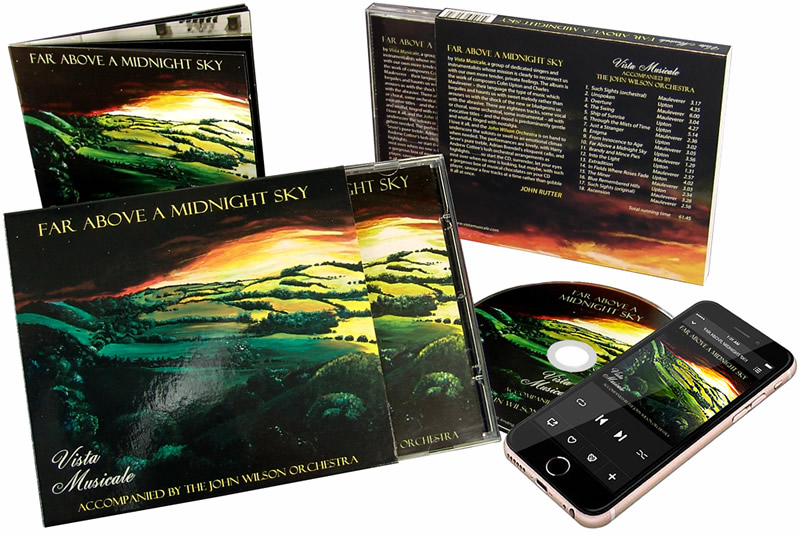 Vista Musicale is "a group of dedicated singers and instrumentalists whose mission is clearly to reconnect us with our more tender, private feelings"… John Rutter. The music itself is the product of the composing talents of Charles Mauleverer and Colin Upton, coupled with the technical expertise and musicality of David Upton.
Work first started on Far Above a Midnight Sky in 2005, with the recording of the John Wilson Orchestra at the Abbey Road Studios in London; the album has subsequently taken eight long years to complete – and it is only now, in the closing weeks of 2013, that we can finally make it available to you. Hopefully it has been worth the wait.
If you'd like any further information, or would care to leave any comments on the music – we should be delighted to hear from you.
If you'd like to read the views of an assortment of our customers, then please visit our Comments Page.
For updates and further samples of Charles Mauleverer's music, please go to www.charlesmauleverer.com